This is an immersive project/learning retreat for software developers, game developers, creative coders, generative artists. You will spend your time on retreat working on a specific project or learning a particular subject. You will be surrounded by a community of supportive peers doing similar work.
Dates: August 1 to 21, 2022
The retreat will run for 3 weeks. Monday August 1 will be a travel/arrival day. Sunday August 21 will be departure and travel home.
Interested?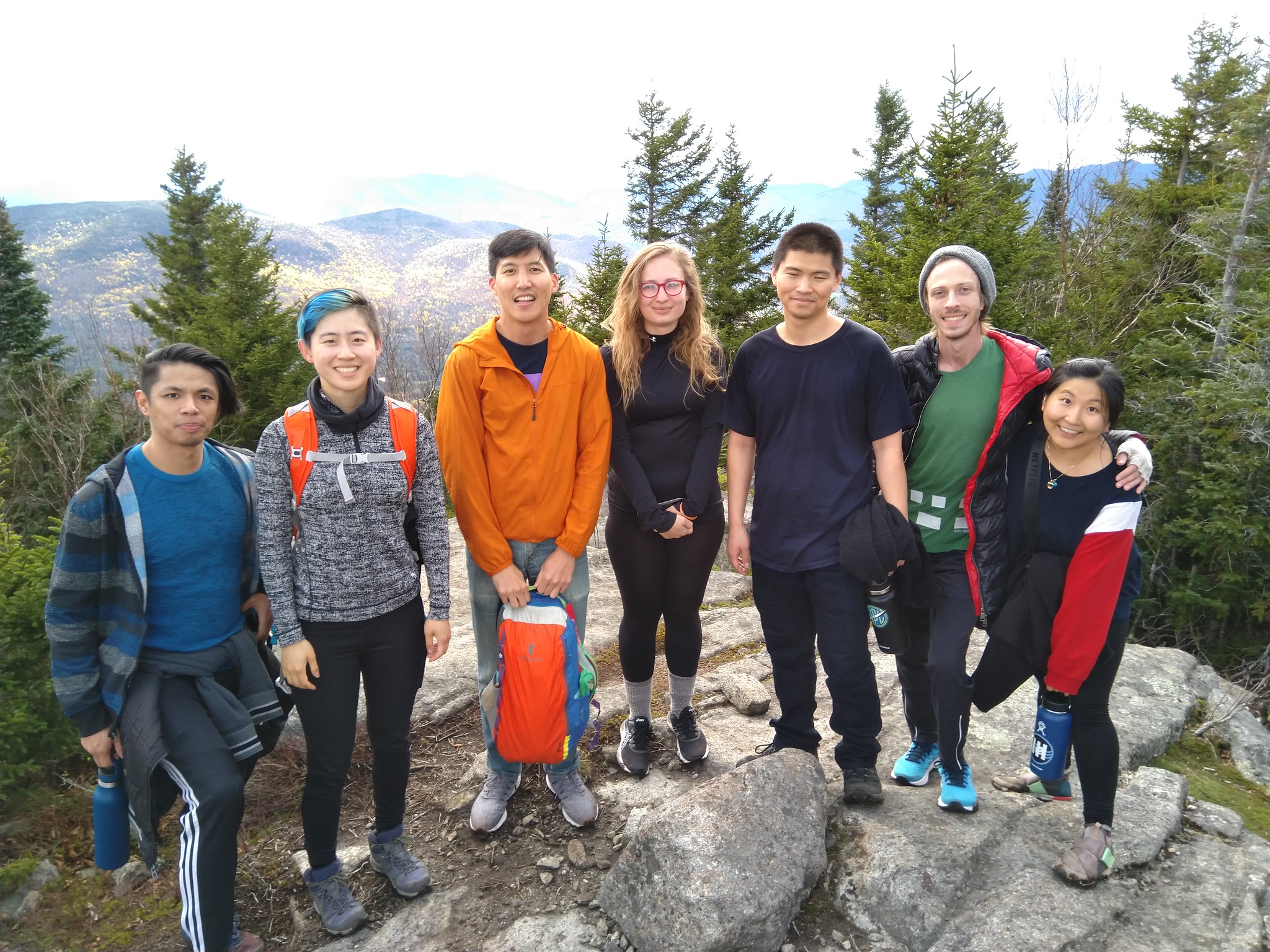 What is a self-directed programming retreat?
This retreat provides a substantial block of time to work on projects where you are fully in control of your own time. You choose what to work on or what to learn and how to go about it. There are deliberately no formal classes, curricula, teachers, or instruction.
Summer in the Adirondacks
Adirondack State Park is the largest publicly protected area in the contiguous United States. It constitues 6 million acres of forest, rivers, lakes, mountains, and trails. Summertime here is glorious: warm enough to swim in the fresh water lakes but never uncomfortably hot. Most activities are either free or very low cost.
Food
All meals are freshly prepared with in-season, locally-sourced ingredients by our in-house chef and Director of Operations Christella Kay. Coffee, tea, soft drinks and snacks are provided. All meals, snacks, and non-alcoholic beverages are included in the price of your retreat. Alcohol is not included or provided but guests may purchase and consume alcoholic beverages in accordance with our retreat handbook guidelines.
Equipment
Each guest will have a sit/stand adjustable desk and ergonomic office chair. Our facility has high-speed (940 Mbps) Internet and WiFi6 access points throughout the property as well as ethernet jacks and power outlets always nearby.
How to apply
Interested?
How much does it cost?
Retreats are priced with our discounted grand opening rate of $700 per week which includes lodging and all meals.
How do I get there?
Our address is:
16 Wheeler Ave
Malone, NY 12953-1603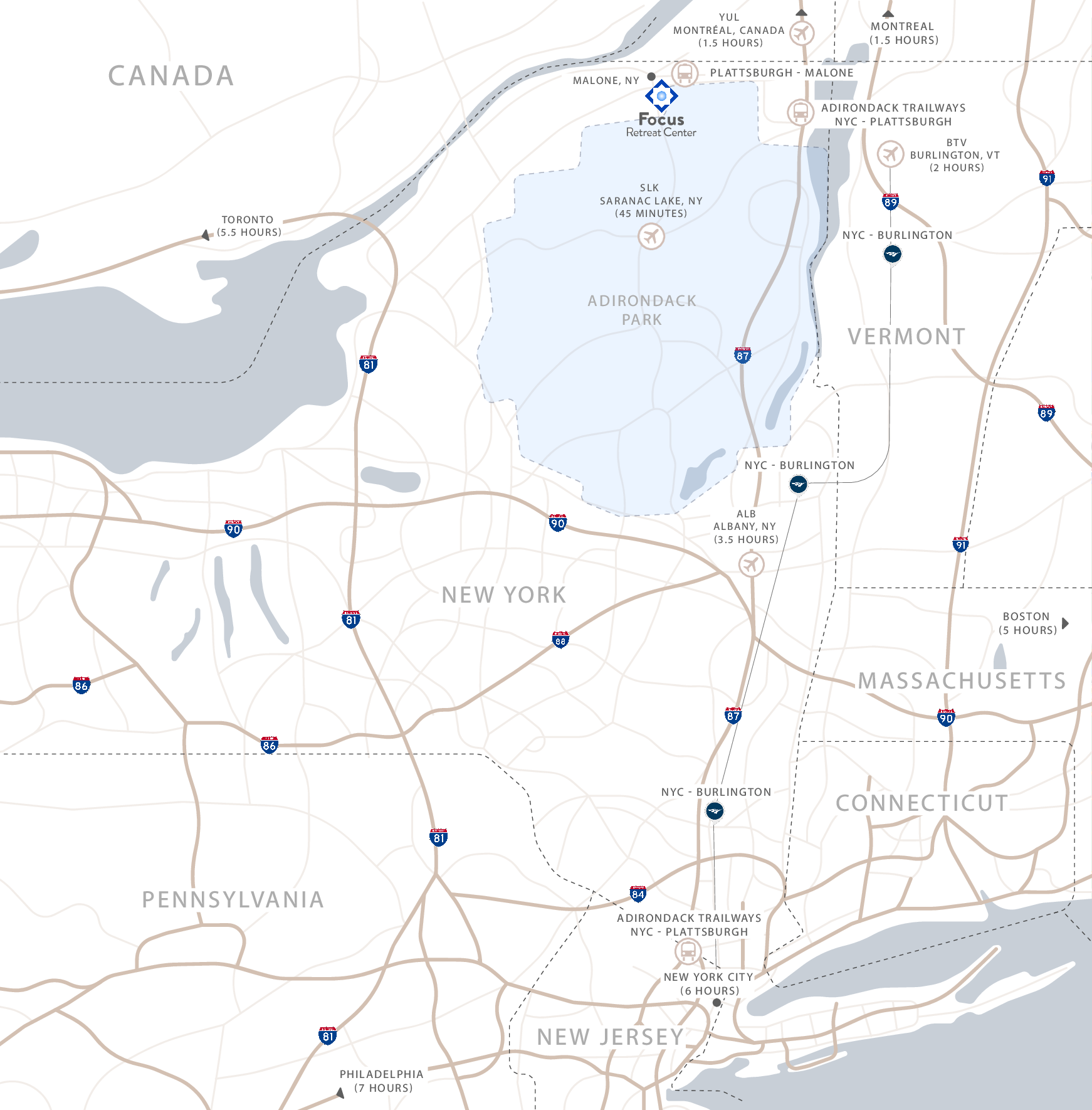 Car
Malone, NY is reachable by car in a day or less from NYC, Philadelphia, Boston, Montréal, or Toronto. If you plan to drive a private car just let us know. We have private off-street parking available. If you are willing to offer carpool rides to other guests, that's fantastic. Let us know and we can help coordinate.
Rental Car
A 1-way rental car that you pick up at the airport and return in Plattsburgh is one of the fastest and most convenient options to get to FRC from major airports in the region. If you can coordinate with even 1 other guest to split the cost of a rental car and gas this can be the most affordable option. With a groups of 3 or 4 people the per-person cost gets even lower. FRC can shuttle groups from the rental car return at Plattsburgh airport to FRC.
Bus
Greyhound NYC to Plattsburgh: runs from either Port Authority or Midtown (31st & 8th Ave) to Plattsburgh, NY a few times a day. The trip takes approximately 6 hours and costs around $75 one way. You arrive at Mountain Mart at 7155 Rte 9, 12901 Plattsburgh, NY. FRC can shuttle groups from Plattsburgh to FRC.
Coming from other locations look for bus routes to either Plattsburgh NY, Saranac Lake, NY, or Lake Placid, NY.
Train
Amtrak NYC to Burlington, VT: Amtrak's Ethan Allen Express Service runs from NYC to Burlington, VT. We can shuttle groups from Burlington to FRC.
Amtrak NYC to Albany, NY: will get you about half way to FRC but it's still 3.5 hours to drive from there. You can also take a bus from Albany to Plattsburgh which is much closer to FRC.
Plane
Adirondack Regional Airport (SLK) in Saranac Lake, NY is about 45 minutes south of Malone and the nearest airport. There are daily flights on Cape Air from JFK airport in New York City. Jet Blue also has some flights.
Burlington, VT (BTV) is just over 2 hours drive from Malone and has some flights landing there.
Montréal-Trudeau International Airport (YUL) is about 1.5 hours drive from Malone, and connects to many international airports directly with good prices and times. However, you will need to plan for crossing the border between Canada and the US. Be sure to bring your passport and allow extra time for customs.
Albany International Airport (ALB) in NY is the nearest large international airport with many flights, but it is still a 3.5 hour drive to Malone.

From the Albany airport if you can take rideshare/taxi to Albany Greyhound bus station, you can take the bus on to Plattsburgh, NY and we can coordinate a ride from Plattsburgh to Malone for you.